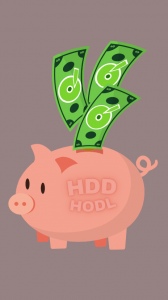 HDDcoin HODL is a special program, planned for Q4 2021, as per our Road Map. This program will allow Coin Holders to earn rewards on HDD locked in a Smart Contract for a specific hold duration.
It is specially designed to build the HDDcoin community by encouraging members to hold their Coins for longer periods of time, giving these members the opportunity to increase their investment. Our goal is to enhance stability in our currency while at the same time encouraging growth.
Contracts are secured and managed 100% on-chain using a Smart Coin/Contract coded in CLVM (the on-chain programming language used by HDDcoin).
HODL Rewards are funded from the HDDcoin pre-farm, with funds reserved for at least 5 years of the HODL program to benefit the community. This is one of the reasons we have a pre-farm!
Learn More