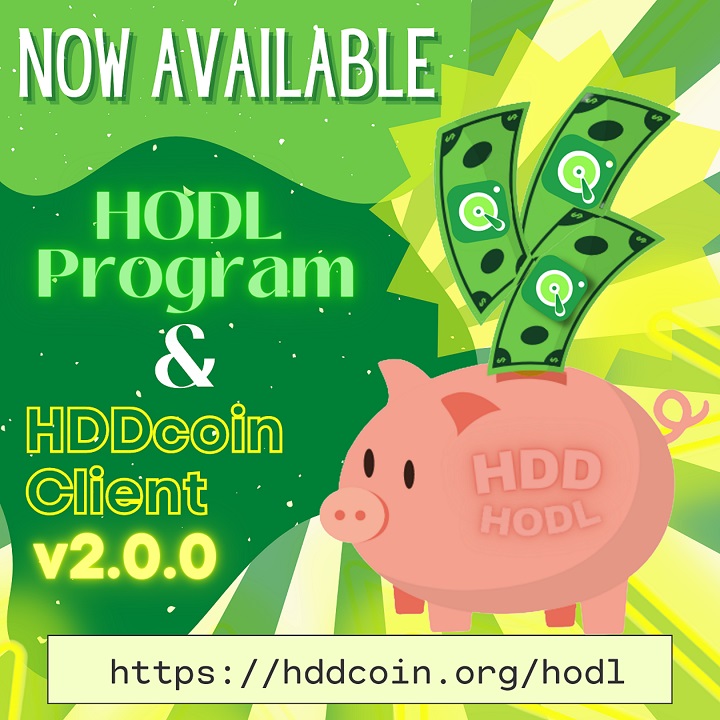 We are very excited to announce the release of version 2.0.0 of the HDDcoin Blockchain application. With this new release, we have added the much awaited HDDcoin HODL functionality!
HDDcoin HODL offers coin holders the opportunity to earn rewards on HDD locked in a Contract for specific hold durations. Contracts are secured and managed 100% on-chain using a Smart Coin Contract coded in CLVM (the on-chain programming language used by HDDcoin). More information about HODL is available on https://hddcoin.org/hodl
We have also incorporated all upstream Chia v1.2.10 and v1.2.11 updates, improvements and fixes.
If you are still on HDDcoin v1.2.11 or prior, we would encourage you to update to the new v2.0.0 release at your earliest convenience. It is also important to note that v2.0.0 is now the officially supported version for the HDDcoin HODL Program.
Head over to our download page at https://hddcoin.org/download, or the GitHub repository, https://github.com/HDDcoin-Network/hddcoin-blockchain/releases/tag/2.0.0 for update instructions.